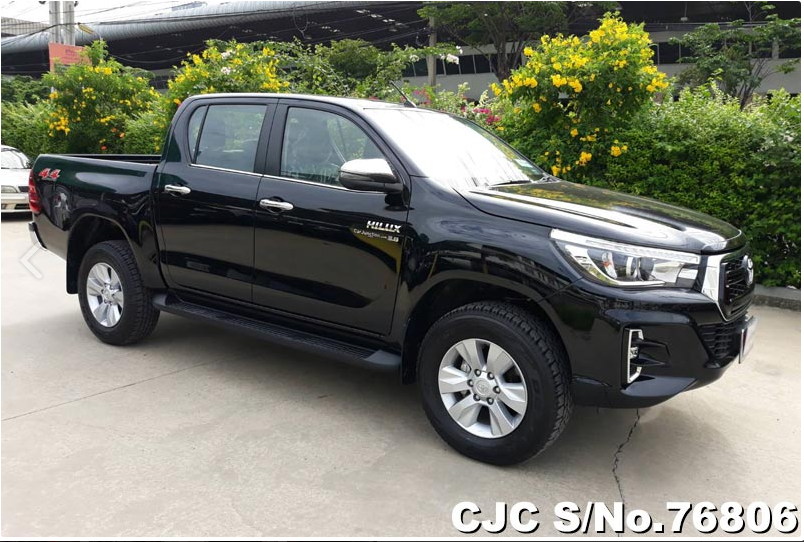 Specifications Toyota Hilux Revo Black Automatic 2017 2.8 L Diesel
| | |
| --- | --- |
| S.No. | 76806 |
| Make / Model | Toyota / Hilux / Revo |
| Year | 2017 |
| Grade | 5 – Excellent Condition |
| Driving Type | Pickup Trucks |
| Engine | 2.8 L |
| Fuel | Diesel |
| Transmission | Automatic Gear |
| Steering | Right Hand Drive (RHD) |
| Colour | Black |
| Doors | 4 |
| Passenger Capacity | 5 seats |
| Location | Thailand |
Extras
Air Conditioning,Power Steering,Power Window,Power Mirror,Anti-lock Braking System,Central Locking,Dual AirBags,Navi/TV,
Used Toyota Hilux Revo Automatic Black in Color with diesel engine and 4WD drive type. Double Cabin of year 2017 is available for sale to your desired place. You can get this 4×4 Right hand drive (RHD) Automatic transmission, 2.8 L Diesel Engine pickup trucks at very cost effective price. Fully loaded top package in Toyota models. Beautiful looks with it's elegant style.
New shape Hilux Revo G package 4wd is top of the line package of Double cabin Revo with 2800cc 1GD engine, stylish new front grill with chrome boundary lines. This 2017 Hilux Revo Automatic double cabin is available at Car Junction , it comes with genuine leather interior , crystal chrome back bumper , fitted with DVD screen , steering controls as well. 2017 Model Hilux Revo 2800cc G package 4wd has crome handles with 17 Inch Alloy rims. This new shape has been continued by Toyota till today.
This Vehicle contains fog lights, high definition headlights and a good capacity back trunk. Car Junction Thailand has exported a number of 2017 Toyota Hiux Revo double cabins to different destinations worldwide and we have satisfied customer response on this vehicle and its features.
Get wide range of Toyota Hilux Pickups both new & used at Car Junction.